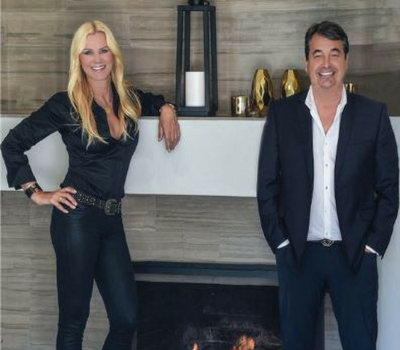 Johannes Van Ierland, Owner (right) & Fiance Susanne Zenker (left)

*as seen as Power Players in Modern Luxury Angeleno
Alpine's Local Story
After moving from a small town in Germany to Los Angeles over 30 years ago, Johannes has establish the leading flooring company in all of Los Angeles. Starting out in the warehouse and working his way up to CEO, Johannes is a shining example of the American dream and the dedication it takes to achieve it. Even during the trying times of the 2008 economy crash, Johannes persevered and built his company into the Los Angeles staples it is today.
In recent years Johannes's fiance, Susanne Zenker, has come aboard to give the company organizational structure and a modern, feminine touch. A fashion industry elite in her own right, Susanne takes her knowledge of years owning Horn Fashion boutique on Roberston Blvd, and channels those designer aspects into the products offered in store.
Ranging from high end designer flooring to classic carpeting, it's no wonder Alpine has been the leading flooring company for 50 years. With a clear vision for the future and a dynamic pair willing to push boundaries, 50 years is only the beginning.
Specializations
Alpine Floor & Home is a family owned specialty flooring, home and design business with multiple showrooms (Culver City, Thousand Oaks, & Newbury Park) in the greater L.A. area. With its down to earth approach, this business has become the insiders go-to showroom for flooring. With Alpine's extensive selection of hardwood, luxury vinyl and tile, stone, marbles and carpets, this family business model has been around since 1968, now being continued as a father and son team. They do everything from classic retail, luxury home design, tenant improvement, hospitality, commercial and builder work. Alpine Floor & Home is an affiliate owner of Carpet One who has partners all over the world and over 1,000 locations.